Teens And Social Media
If you're reading this, you probably use social media too, and shouldn't be surprised that 92% of teens go online at least once a day, with 24% online almost constantly, most often on their smartphones. Teens and social media go together like peanut butter and jelly. Teens like hanging out with friends, and now they can do it anytime, anywhere, with very large groups – instantaneously. Online safety (and manners!) is a new and critical topic for family discussion, and it helps to know what they use – most teens are on multiple networks!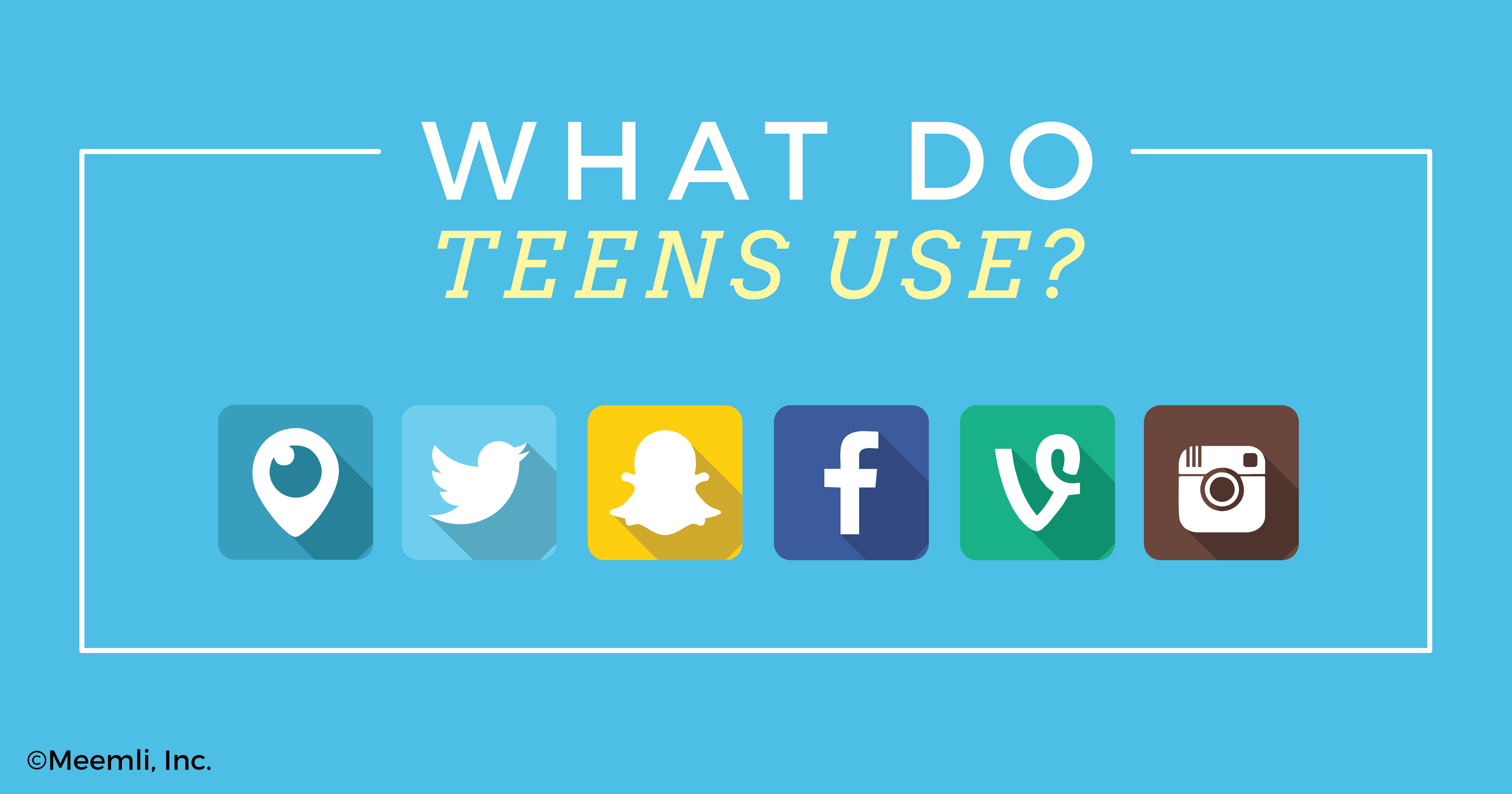 Here's a quick introduction to the most popular ones.
Facebook
The gist: You probably use it yourself. Facebook is not only the ubiquitous network connecting friends, family, coworkers and classmates, Facebook has also become a network to read news (and ads!), play games and more. It is the biggest network around.
Teen use: While marketers note the demise of Facebook's popularity among teens (as their parents and grandparents are on it too), most teens still maintain a Facebook profile for selective use, for connecting with family and useful cohort groups, or liking pages to get updates and deals. Facebook can be a relatively safe place for teens who are selective in accepting friend requests and pages/links they visit.
Instagram
The gist: A lot of people take pictures on their phone, and then wait to post or upload to other sites. With Instagram users can take photos and videos and share them instantly, apply filters to change their look, and follow others' feeds.
Teen use: Instagram is popular with teens as they love taking pictures of themselves and sharing them – instantly. Teens are naturally drawn to visual media, and often follow their favorite artists, athletes and other celebrities on Instagram and enthusiastically use hashtags to help classify and find posts. Instagram, like Facebook (which owns it), attempts to keep anything seriously objectionable out, but as with anything else, the user has to exercise discretion.
Snapchat
The gist: Like Instagram, young people can use Snapchat to take photos and videos and share them with their friends, family, and "followers." But the "snaps" (photos, videos) disappear after reading. The ethereal nature of snaps reflects its many users' short attention spans, while also being different from the messaging apps favored by older (read, over 30) adults.
Teen use: Teens like Snapchat due to the swift disappearance of snaps, so they can share content that is silly, or less polished than what they would share on Facebook or Instagram. Snapchat has the potential for misuse for sharing risky /risqué content, because recipients can re-share and even save the image if they choose.
Twitter
The gist: Twitter lets users share "tweets," messages that are 140 characters or fewer. Twitter also allows links, pictures and videos to be shared. Users can also "retweet" others' posts which go viral, globally, which is why most interesting news seem to first break on Twitter.
Teen use: While adults use Twitter for work purposes like marketing, teens use it "follow" their favorite celebrities (fans often engage in Twitter chats), have direct message exchanges with friends, and even use it for academic research/polling. Care is recommended as even adults have been often hurt by virulent Twitter-storm comments.
Tumblr
The gist: Tumblr allows users to post pictures with short blog posts. It is an attractive social networking options for many young people who want to share a little bit more information (or opinions) with their pictures. Users can follow other's blogs and also choose to make their blogs private.
Teen use: Tumblr is very popular with teens, especially girls. The appeal is that their parents are less likely to use it, while it still satisfies their requirement for sharing visuals and doing it all on the smartphone.
Other apps
Vine
Vine is an app that lets users share six-second (or shorter) videos. Yes, really. Vine's super short video format lends itself to clips of all kinds, including cat videos or a three-pointer shot.
ooVoooo
Voo is a free, high quality video conferencing service and teens like using it for group video chats for studying, or just hanging out. As with other apps where anyone can contact anyone else, privacy and safety settings should be enforced by the teen.
Periscope, YouNow
Periscope is a live video streaming app (acquired by Twitter) where viewers can share comments while watching the stream, and teens need to take care on what they share and with whom. YouNow is similar, making it really easy for teens to stream videos of themselves, so the same rules of caution apply.
Kik
Kik is an increasingly popular anonymous messaging app, but anyone can send messages with pictures to anyone else, even if they don't know them, which worries many adults. Teens need to be extra careful to protect themselves from strangers.
Ask.fm, YikYak
Ask.fm is an anonymous question and answer site and YikYak is an anonymous message posting site, both of which have gained popularity, while also garnering wide criticism as there's  high potential for unacceptable content, and even cyberbullying.
YouTube
The now venerable YouTube is a huge hit with teens who often get their entertainment from it, plus there's a video for almost anything they want to learn about (or shouldn't!). Again, teens should be careful about what they post and who they connect to on YouTube.
And there's Pinterest, Omegle, Burn Note and more…
The Bottomline
Online safety is critical, especially with anonymous users, and teens (and their parents) should know how to use the security settings and enjoy using the apps without fear (or disgust!). Luckily there are a lot of helpful guides out there (here's one).
Social media in itself is not bad, and can do good, helping teens maintain friendships, learn new things or get help when needed, even for academic purposes. Teens and pre-teens just need to learn how to protect themselves on social media – it's fascinating, but a jungle out there!
Do you agree?
-->