Students
Connect to learn. With a teacher. Or on your own.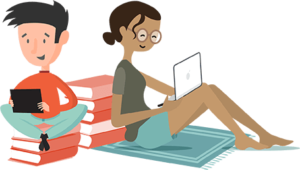 On Meemli, you can sign up for online courses or individualized sessions with active teacher guidance that will give you the learning experience you want wherever, whenever you want.
What We Offer
Need some extra help to succeed at school? Meemli offers individualized teacher guidance and courses to build skills for middle and high schoolers, with different options to suit your needs. It is all online, so you have flexibility and convenience!
We also offer mentor-guided courses that are available for students through schools and other learning organizations.
Meemli on your own
If you need some extra academic guidance, Meemli may be able to help by setting you up for online coaching with an experienced teacher.
Our teachers use the Meemli learning platform to offer a fun and effective learning experience. Our pricing is affordable but availability is very limited – go ahead and get in touch, and we'll respond as soon as possible.
Meemli Academy
Looking for an online course where you can get personal attention?
Meemli Academy offers online courses varying from strictly self-study to or teacher-led small group sessions.
The courses are on topics that you care about and best of all, they are on Meemli so you take the course from anywhere and still have a great learning experience.
Find out how Meemli can help