Get Ahead Over Spring Break
Heading into spring break? Don't have any plans yet for a whole week (and two weekends) of no school? How about using some of the spring break to get ahead? After all, if spring break's almost here, it means that the end of the school year (and the crunch) is just a few weeks away. But it doesn't have to be all work. You can have some fun too and you'll get back to school feeling good about yourself. Here's how.
Recharge
Breaks have a purpose, whether it is during a game or during the school semester. They give us time to refresh ourselves so we can back to what we're doing with more energy and enthusiasm, and there are many ways to get refreshed.
Sleep in
If you're like most teens, you're probably no stranger to sleep deprivation. So go ahead, plan on sleeping in during the break! Even if you can't make up for every lost hour, your body and mind will thank you for getting more rest – maybe you'll notice you're a little less grumpy too!
Spend time outdoors
There's tons of research that show how being in the great outdoors can give your mental space a boost. Being in nature makes you feel more alive and creative, reduces stress, and improves focus. If you can't get away for a camping trip in the woods, a simple walk around a tree-filled park can work wonders. And, if you invite your friends, you can do your socializing IRL.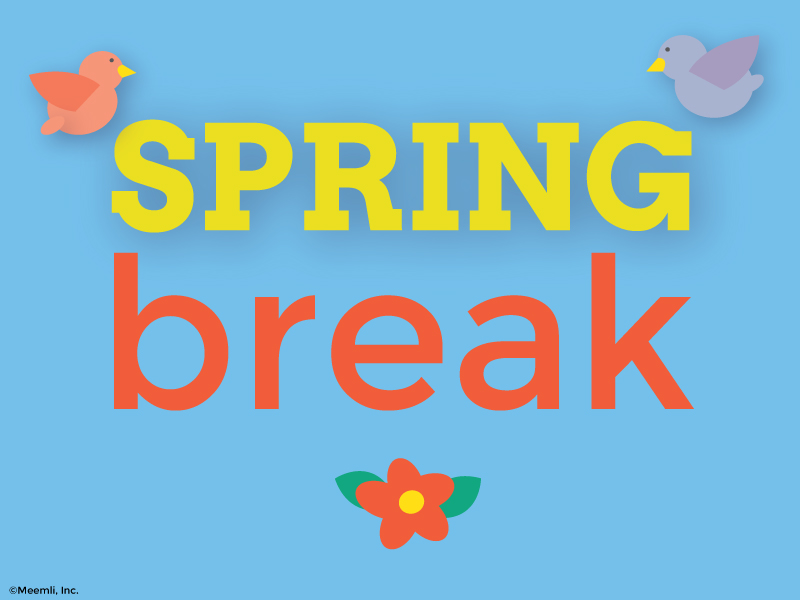 Get your body moving
Surprisingly, sitting still all day in class can be exhausting! The human body wasn't built to sit for hours at a time. Take advantage of this week away from chairs and desks to get moving and exercising. Not only will it get your body in shape for spring dance season, it also helps support the brain by increasing your circulation, improving your mood, and boosting learning and memory. So, once you finish reading this, go play some pickup basketball, take a brisk hike (see above), go dancing – anything at all that gets your body moving.
Learn something you like
As we wrote previously, learning something new is both fun and good for you. So dust off your guitar and learn a new song, or learn to play mahjong with grandma or how to build a website for your club. You'll find that learning something just because you feel like it is satisfying and energizing!
Catch Up
We get it – sometimes we all fall a little behind and need time to catch up. Spring break is the perfect time to check off the unfinished projects on your to-do list so you can go back to school with a lighter load.
Complete assignments
Did you miss a deadline or two in the previous weeks? Are there extra credit assignments you can do to boost your grades? Spring break is a great time to tackle them. Talk to your teacher at least several days before the start of break about any assignments you can complete over the week, then get to work.
Review missed classes
Were you out sick or other excused absence for a few days and missed some classes? If so, use this time to get caught up, your teacher will be able to tell you how. And your friends may help with their notes and maybe even join you for a review (and socializing) session.
Reconnect with friends and family
Sometimes catching up doesn't refer to work but to people you care about. You might have friends that you don't get to see that often (maybe they go to a different school). Or you maybe you miss playing board games with your siblings because you've been so busy. Make an effort to spend time with the people who matter to you – they'll make you feel good!
Get Ahead
To be sure, recharging and catching up indirectly help you get ahead – by making you energized and ready for new challenges when you get back to school. Still, there are some activities that you can consider to help you get ahead in a more direct way.
Get a head start
If you already have some end-of-school year projects on your to-do list, now's a good time to get started. Brainstorming, doing research, outlining the project, even just making a schedule of tasks and dates will all make it easier for you to turn in a quality project on time .
Prepare for tests
Okay, this doesn't sound like fun, but studying a little bit now is a lot better than cramming later, when you're stressed and pressed for time. SAT, ACT and AP tests are all coming up and almost everyone benefits from a little prep time on those. If you're not doing tests, but find a particular topic or subject troublesome, now's a good time to get some one-on-one help to get you over this hurdle.
Start Thinking About College
If you and your parents are able to, try to visit some colleges (check out our guides for students and for parents) – it is never too early! Can't visit colleges in person? Take the virtual tour from home – it might be fun to do this with friends too. If you're not sure which colleges you should look at, you can start researching (The College Board has a cool search tool). Bonus: looking at colleges keeps you motivated to do well in school!
With so many options for things to do on spring break, there's one thing we strongly recommend: don't stress about it. Even if all you do is spend time on Netflix and Snapchat, relax and enjoy your break!
-->