College Tours: Tips For Teens
Already dreaming of the day you'd be going to college? Good for you! Of course you have to finish high school, get good grades, do SATs/ACTs etc., but wanting to be in college is an important first step. Another helpful step in making it real is visiting colleges. Touring campuses will help you get familiar with the process and figure out what will work best for you. Also, visiting colleges will make going to college less scary! With Spring Break coming up, our "College Tours: Tips for Teens" will get you started on planning this major road trip.
When's a good time to start college tours? The short answer: early! When I was teaching a college preparation course, I took freshmen and sophomores on college field trips just as frequently as the juniors and seniors. I found it helped to visit schools early to get a sense of what you are looking for. This way, when application season rolls around, you don't feel rushed in your choices.
Now, while you may be ready to go, you need to to get your parents to agree too. You can start by sharing our post written for parents on the importance of college tours and how to plan for them. If your parents need more convincing, try these options.
Show you are serious.
You've already shown an interest in higher education, so you are off to a great start. Before talking to your parents, figure out what schools are the most appealing and why. Do some initial research to show that you are serious and this is important to you. (Your school counselors may be a helpful resource too.) Your parents may be swayed by your taking the initiative.
Be reasonable.
College visit expenses can add up quickly once you factor in transportation, hotel, and meal costs, so be reasonable about your expectations. You won't be able to visit every school on your list, so start with the one you like the most and then schedule tours at several colleges that are within driving distance from one another. If you present a thoughtful, realistic itinerary, your parents will be more likely to agree to it.
Keep an open mind.
Maybe your parents insist you visit their alma mater, or what they think is the perfect school for you. Don't fight it. Stand firm in your choices, after all, you are the one going to college, but be open to looking at a place you might not have considered – you may learn what you don't  want, which can be as important as knowing what you do  want. And, you never know, you just might like a school your parents suggested!
Got your parents on board? Once you get to the campus, it's up to you to make the most of your visit.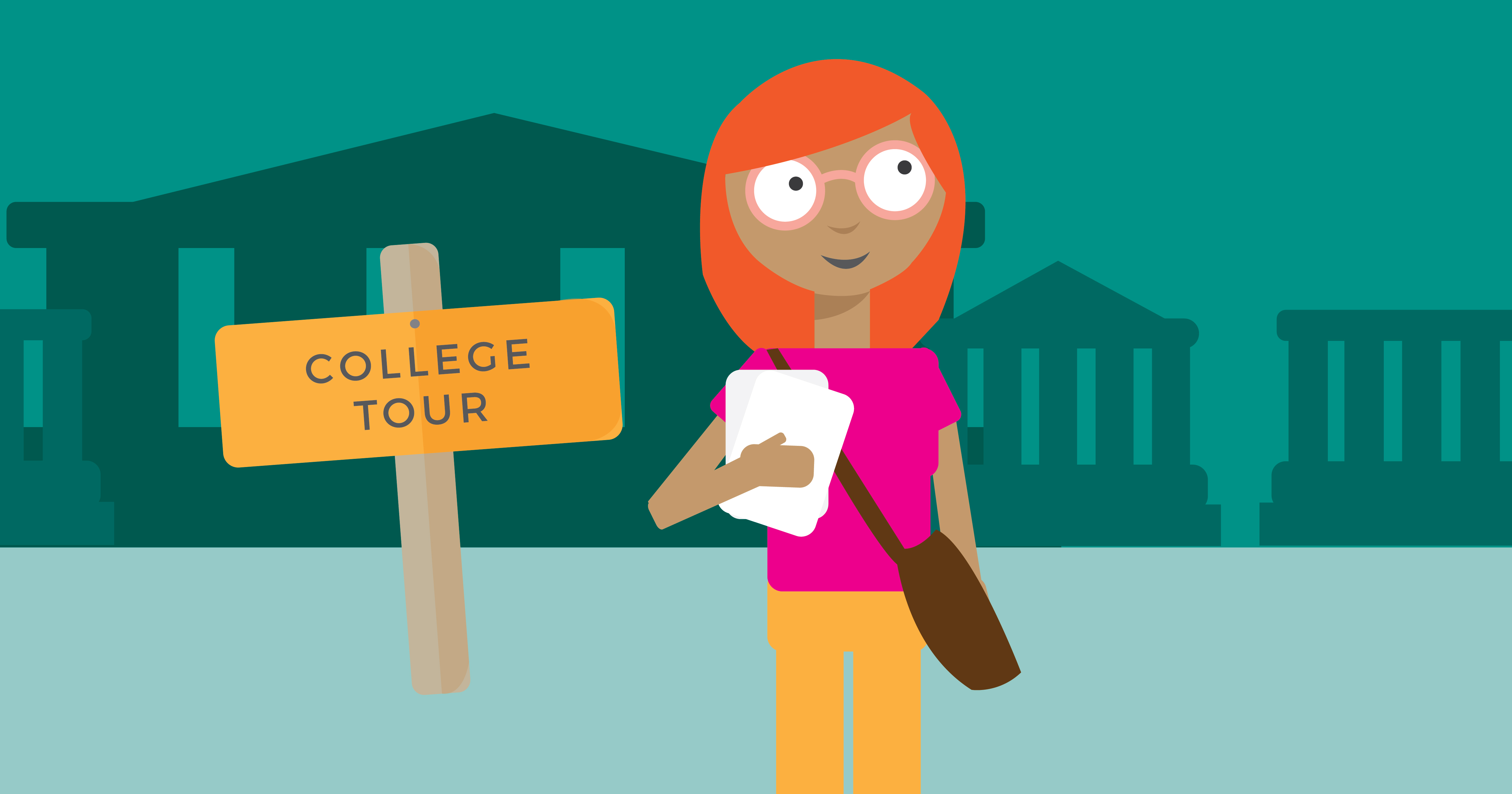 Know what to expect.
Visits can range from an hour-long guided tour to an overnight stay in a dorm (offered by some colleges). On the guided tour, a student admissions officer will show you the library, the student union, the bookstore, and the academic buildings where you'd take classes. You'll also probably check out interesting focal points around campus, such as a famous statue or a lucky fountain.
Ask questions.
Visiting schools allows you to have meaningful conversations with students and staff members who can share information on what's important to you. You can easily find out how many students attend the school, but what are the most popular student hang-outs? Here's a helpful list of questions you can ask.  And remember, this visit is for you, so ask your own questions; don't let your parents do the talking for you.
Take notes.
I know, it sounds like an assignment, but you'll be glad you did it. When visiting several schools back to back, information tends to blend together, and no matter how many times you tell yourself you'll remember, odds are, you won't. Make life easier by jotting down a few things that stand out so that you can reflect later. And of course, take pictures, too!
Observe.
Find a bench in the middle of campus, and soak it all in. Can you imagine yourself walking to class everyday? Do the students smile or say hi to you as they pass? What do you notice about how people interact with one another? I'd also recommend looking around the surrounding area. Since you'll be spending at least four years at this school, it's important that you like what the location offers. Is there a lively downtown nearby or hiking trails? These things will matter when you desperately need a study break and want to get off campus for a bit.
Break free.
At some point, try to wander around the campus on your own, without guides or parents. Guides and admissions representatives are experts at highlighting the best parts of the university, but you won't get the complete picture. To form your own opinions, venture out on your own. Here are tips to get a good feel for the campus by exploring on your own without the additional commentary from parents.
Searching for the right college is an adventure. Be mindful of how you feel on each campus, but don't worry if there's no magical moment when you just know. Sometimes it takes a while to figure out, and that's okay. Take time to reflect and enjoy the process. Lastly, remember it is an exciting and scary time for parents as well, so a warm thank you and hug will be a perfect ending to your college tour.
So tell us, what colleges are you looking forward to visiting?
-->