Tips To Take the Stress Out of Your College Essay!
(Please share this with the college-bound teen in your life!)
If you're a high school senior, right about now you're freaking out about your college application essay. After all, everyone tells you it is SO IMPORTANT and will determine whether you get into the college you want – or NOT!! This is the stuff of nightmares and panic attacks.
But relax.. It's really not that scary-impossible. Approximately 2.2 million students enroll in college every year! And that "personal statement"? It is only one of the ways colleges know how amazing you are – your test scores, grades and extra-curriculars matter too!
Meemli experts are happy to share a few simple steps that you can remember next time the anxiety strikes, then take a deep breath, and let it go – you've got this!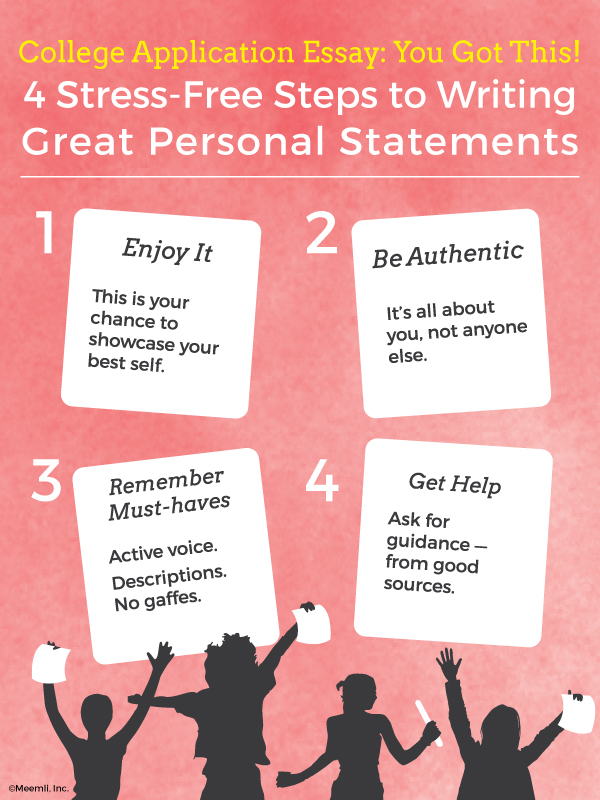 Need more reassurance and active help in writing your essay? There are many places where you can get help , and Meemli offers an outstanding option.. An experienced teacher will guide you through writing your essay, all the way to the final version, and you can take the course from the comfort of home – you can't beat that for easy access!
Whichever approach you choose, remember to enjoy the process as you share about your awesome self to all those admissions officers across the country – we wish you all the best!
If you have tips to share on dealing with the college essay, share them with us – we'd love to include them in a future blog post!
-->