College Applications: November Due Dates!
Trying to figure out if it is time to get serious about the college process? Check out our handy list of college applications with November due dates and see if your target schools are listed here!
(For transfers, early decision or other requirements, please check the college website for more details.)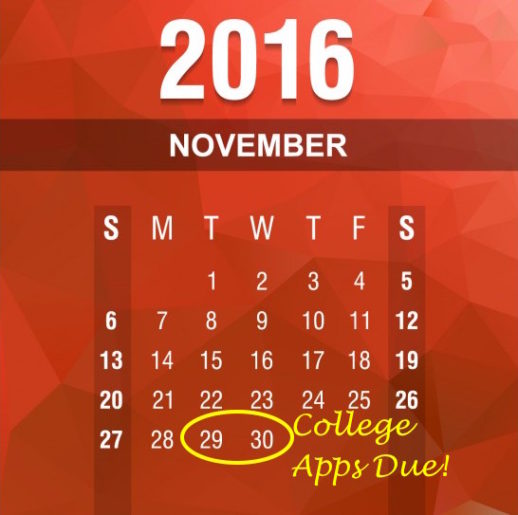 Colleges With November 30 Deadline
Get Started Now!
If any of your favorite colleges are listed, first visit their website and confirm the deadline details and requirements.
November is a short month, plus it is the beginning of the holiday season kicked off by Thanksgiving. So, start making a plan, if you haven't done so already, and get cracking on your application.
Your personal statement will take time, so make sure you set aside enough time for it. If you think you may need help with your college application essay, line up your resources early – everybody is going to be looking for essay coaches at the same time! In a time crunch? Meemli can help, with flexible offerings (including a free one) to suit your needs, check out what we can do.
Applying to college is hard work, but it can also be enjoyable. Take a moment to breathe and appreciate the fact you're now preparing to leave high school and move on to the next big life adventure!
-->