A Teacher's Tip for Back to School: Start Reading!
(A teacher's perspective and another favorite of ours!)
Sleep in. Stay up late. Play video games…all day.
According to my high school students, they'd like to spend their summer vacation. Now, the reality may be different (parents?), but the freedom and possibility that summer represents to children – to all of us – is very real. Another very real thing: back to school has kicked off around the country.
But luckily, the freedom and possibility that make us love summer can also help your child successfully transition back to school, reading, perhaps even with a greater appreciation for it.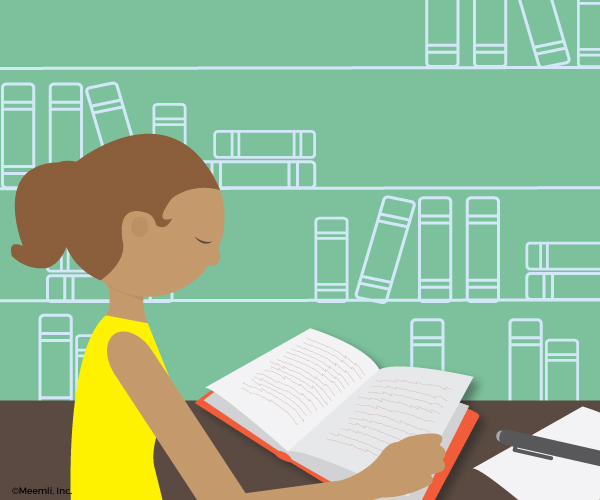 Why Read
If you found your way to this blog, fantastic! You are probably already convinced of the importance of reading for academic success. And mountains of research back you up. A Department of Education study assures us that families play a big role because the amount of reading done outside of school can greatly impact a student's success in school.
Unfortunately, academic skills often decline over the summer. If your child has read nothing but tweets and fortune cookies all summer (ok, it happens), they might have begun a trip down the summer slide. But don't panic. You still have time to get them back on track.
How To Read
In short: build stamina. From my experience, the first couple of weeks of school doesn't pass without at least a couple students reminding me that my 8:45 English class is happening at least a couple hours before they're supposed to be awake. But teachers often expect kids to hit the ground running. So begin to help your child find a reading routine. The reading requirements that are awaiting them in English class, social studies, science, economics, etc. will be much easier if your child is already accustomed to reading daily.
Now, if your child hasn't been reading consistently this summer, start small. Fifteen minutes is probably about right for a middle or early high school student. They can do it. They will build from here, to 20, 25 even 30 minutes. Wouldn't it be wonderful if your child started this school year reading 30 minutes daily? This is probably one of the most important things that you, as a parent, can do to support your child's success in school this year.
What To Read
As a teacher, I have asked a student what he or she like to read and been told, "I dunno" innumerable times. Ah, yes. Often, behind the sullen, frustrated or bored tone is a child who genuinely doesn't know what he or she likes to read. Don't give up if you get this response!
I've found great success asking students about their favorite TV shows or movies and tying them to genres and books. Fans of Walking Dead can Google "young adult (YA) zombie novels." Is Gossip Girl their thing? Run a search: "books like gossip girl." Jurassic World? Ender's Game? Hey, these two were originally books, so that's easy! (Also, your local librarians would love to help your child find a book. They live for these moments.)
Don't be disappointed if your child isn't interested in "important authors" like Shakespeare, Hawthorne or Melville. That's what school is for. Generally, in class, your child will be reading more difficult texts that are not easy to relate to or understand. Independently, your child should be able to choose. Shakespeare's great, but he's not at the top of my personal summer reading list either.
Remember, it doesn't matter if you want to read this book or not. It matters that they do.
Where To Find Resources
Time to tap the Internet. There are many great online resources that can help your child become a better reader (I could do a whole post on them) and here are some good ones to get started.
Check out YourNextRead.com which features long lists of "to read" books for many of my students who "don't like to read." GoodReads.com also has hundreds of lists of books for every taste.
Then there are the sites with high-quality content, especially non-fiction, aimed at middle and high schoolers, here are a few:TeenInk (written by teens), NY Times Learning Network, Smithsonian's TweenTribune.
Final Tips
It's a simple thing, but reading logs can be a great motivator. From reluctant readers to bookworms, reading logs satisfy. It's just gratifying to see how much you've read. You can find printables online, or simply keep track of the basic info on a piece of notebook paper: book title, start/end pages, and amount of time read. Do what seems most motivating for your child.
Discuss the books with your child to help develop deeper understanding – ask about the main idea, the plot, the characters, what the author is trying to achieve etc. (Think your child may need help with reading or writing? Check out free reading and writing assessments on Meemli Academy or just contact Meemli.)
And my favorite: read with them. Can you find fifteen minutes to actually sit down and read too? The most successful reading program I've ever experienced was at a school that had daily reading time during which the teachers were also required to drop everything and read. No email, no grading, no lesson planning, just read for pleasure. It was transformative for everyone. You can be a role model and inspire your child to read by doing it yourself.
What are your tips to get your kids reading? We'd love to hear them!
-->