Book Pick: "The Vigilante Poets of Selwyn Academy"
An ongoing series where we showcase recommendations from our teachers. Here's one from our awesome English teacher Noël Young for a fun Young Adult book you wouldn't want to miss!
When the reality show For Arts Sake starts filming at Selwyn Art Academy, Ethan Andrezejczak and his friends become determined to take a stand. Although the rebellion is not his idea, Ethan follows along with his best friend's passionate protest of the show and quickly becomes entangled in a web of corruption and scandal. It is refreshing to read a book that tells a meaningful story in a fun way that never feels too heavy or philosophical. The Vigilante Poets of Selwyn Academy by Kate Hattemer. This book is one you will definitely want to check out.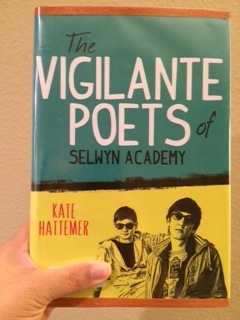 Here are a few reasons why.
It is not your typical dystopian YA novel.
This is not a flashy, doomsday story. Instead, it is a story grounded in real experiences that we can all relate to, but with a funny, quirky spin. The narrator's sarcastic humor reveals insights into insecurities, fears, and hopes that we can all relate to. While there are no explosions or terrifying supernatural creatures, there is betrayal, a dash of romance, and lots of ridiculous situations. There is also a quiet suspense that will keep you engaged until the end of the story. In the words of our narrator Ethan, "Remember: this is not a novel, not a memoir, not produced by anyone with artistic skill. It's just about what happened last year. It's about reality TV, a desperate crush on a ballerina, and a heroic gerbil named Baconnaise. But mostly, it's about my friends. Please remember: not art, just life."
It gets teens.
The Vigilante Poets of Selwyn Academy is Kate Hattemer's debut novel. When asked about her inspiration for writing this book, she says, "My students and siblings were all so funny, so hyperverbal and intelligent, so deeply concerned about the world and their place in it, that I wanted to write for and about them." As a high school teacher, Hattemer understands and appreciates the voices and experiences of teens: "Even when they're bored, teenagers are interesting: they're aggressively bored, they can't believe that such a travesty as a 50-minute Latin class is being visited upon them. All this turmoil makes for good fiction."
It is funny and charming.
One of my favorite things about reading this book is that it made me smile, a lot. Ethan and his friends are funny. They joke and come up with absurd ideas. But mainly, they are relatable. The socially awkward Ethan, the ultra cool Luke, and the beautiful, seemingly flawless Maura are all people we might encounter in our own lives. And just as in real life, there is more to each of them. They make mistakes as they struggle to figure things out. You might even cringe as you read some of the situations Ethan gets himself into (such as the time he finds himself stuck in a locker while his crush stands right in front flirting with some guy!). But, it is all part of the story's charm and you will want to be right there with them as they experience loss, heartbreak, and joy.
It is hard to put down.
I originally chose this book because I liked the turquoise and yellow on the cover. I started reading casually, not too focused, but soon realized I was well on my way to finishing the first chapter. I was hooked. The beginning of the story is intriguing and unusual, which will make you want to continue reading, and like me, you'll have a tough time putting it down.
Want more reasons? I'm not alone in liking it so much. It was named a best book of the year by the American Library Association, Kirkus, and the LA Public Library (you can read more about it here). As a bonus, if you choose it for your independent reading assignment, you might impress your teacher by reading a book that uses poetry as a means to rebel!
Go ahead and give The Vigilante Poets of Selwyn Academy  a try – and let us know how you liked it!
-->