Father's day: Life Lessons From Dad & Online Learning Discount From Us!
Father's Day is almost here. Do you think that it's just an afterthought to Mother's Day and that mothers do all the parenting? Think again! Contrary to popular belief, a recent study showed that the current generation of fathers (and that includes: biological fathers, stepfathers, adoptive fathers, or other adult male figures in the household) are more engaged in care-taking than ever before. And even the dads of decades ago, who may not have been so hands-on in the day to day child-rearing, still had powerful impacts on their children.
As you're mulling about what gift to give your dad, think of these two life lessons he's given you to help you live well.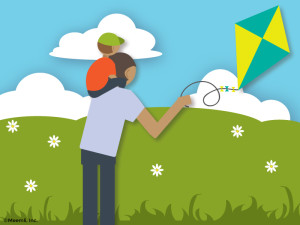 Take Risks
Dads are notorious for choosing playtime (whether it's making funny sounds for the baby while giving him dinner or playing hoops with a teen) over everything else. They're usually more playful with kids than moms, and that definitely includes rough games more often than not.
These rough, playful moments with dad are not just the precious memories we capture with the camera. Studies show that  these are moments where kids are learning important lessons. Kids have a chance to explore how their bodies can move and what they can really do with their strength. (It doesn't hurt that it also helps in motor development.) During these play sessions dads are instinctually teaching kids how to manage their emotions in healthy, physical ways. They show them how to dance swiftly through thoughts, feelings, and emotions.
Children learn to explore and take risks because dad is around, keeping them safe but also challenging them to be independent. By encouraging their kids to literally take a leap while being there to catch them, dads do a lot to reduce the fear of trying something new and unknown.
Be Strong
Fathers help their children be strong in body, mind and spirit, starting from infancy and continuing all through their growing years. As noted earlier, dads like to play with their kids, and often introduce their children to their own favorite sports and/or outdoor activities. A dad who's healthy and physically active, will be a role model as well as an active guide to help his kids become the same.
Dads often find new and unexpected ways to play with familiar toys, which builds a young one's creativity abilities. In conversations, dads tend to ask more –Wh questions (Why? What? Where?). Not only does this show an interest in a child's schoolwork and life but it sparks thinking. Research shows that inquisitive questions by dads builds self-confidence and improves overall academic achievement and motivation. The study by the Department of Education (2001) also shows that children of "highly involved" fathers are 43% more likely to earn mostly A's in school. Whether it is helping them navigate online learning in algebra or choosing a project for the science fair or reviewing their English essay, involved dads nurture strong students.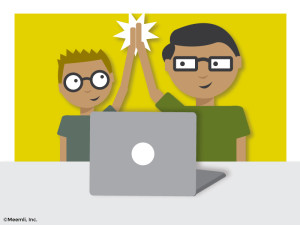 When children feel a lack of love or rejection from either parent, they're more likely to become aggressive and emotionally unstable. Eventually, rejection can lead to low self-esteem and negative world views. Studies have pointed to dads as being instrumental in helping kids develop their self-esteem as well as a more empowered, positive attitude towards life. A father's love has the potential of giving kids a boost to their mental health that could last them a lifetime. The transformative impact of dads shows very early on – positive relationships with dad have led to strikingly low rates of depression and disruptive behavior visible in children as young as five years of age. Dads show us that we can feel safe in different, awkward environments and even have fun being ourselves in it.
It's not a competition. But it is clear that the fathers are just as important as mothers to children's development and wellbeing. Dad, give yourself a well-deserved pat on the back!
Meemli celebrates dads this Father's Day with a special discount for online learning!
Get 10% off any course on our summer schedule (use code DAD2015 at sign up before June 23, 2015).
Check out our summer courses for middle and high school kids – it's risk-free.
Meemli wishes all dads a Happy Father's Day!
-->