Time Management For Teens – There's An App For That!
Each week, you have dozens of things you have to do: study for exams, complete homework assignments, go to sports practices, pick up supplies for a class project, make something for a bake sale fundraiser, and the list goes on. It is not fun when you have that nagging feeling you're forgetting something critical and worse, the feeling of panic when you get to school and realize exactly what it was you forgot.
With the many things you're juggling, you know you need to plan ahead to successfully prepare for your school work (check out our previous post on taming assignment anxiety), and pay attention to get-started dates, not only the turn-it-in dates, and make time for everything else in your busy life of course.
Luckily, it's never been easier to manage your time and stay on top of your school, extra-curricular and social activities. You might already keep track of your deadlines and tasks with an old-school paper planner. If your system is working for you, keep it up. If, like most people, you bring your phone everywhere, but not your planner, then check out the apps below. They each have their own particular strong points and all are free, easy-to-use, and work across different devices. These digital time-management apps make it easy to remember everything you need to do no matter where you are, so you never forget an important assignment or task again.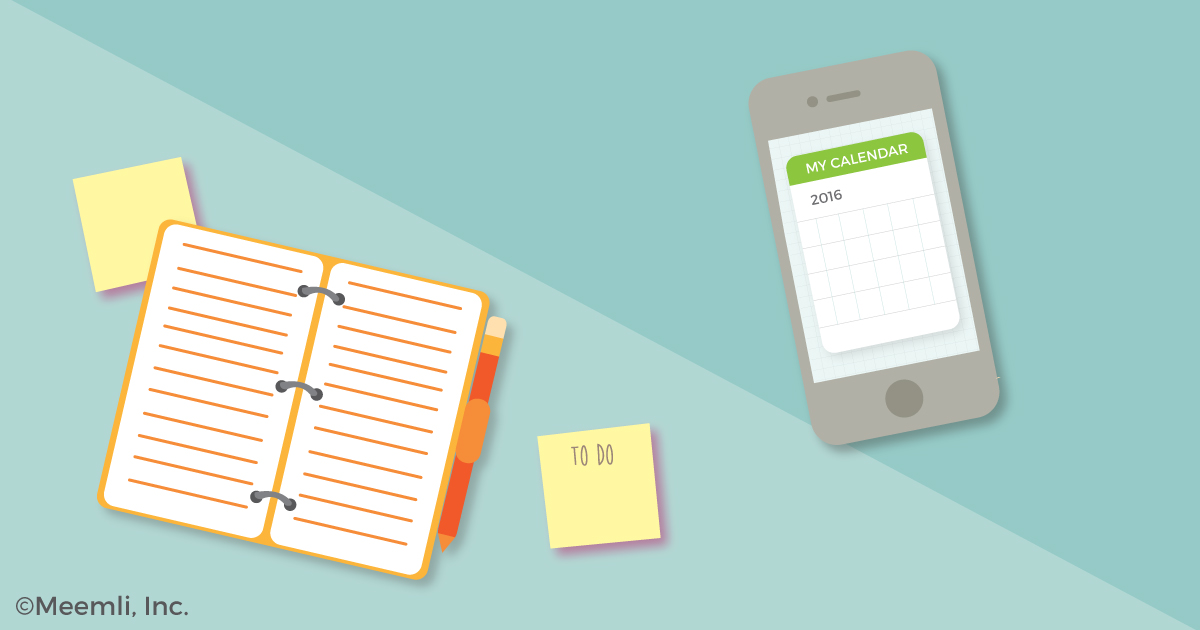 MyStudyLife was built specifically for students. The app enables you to keep track of everything you need in one place: your schedule, homework, exams, and even non-school related events and tasks. You can set reminders for upcoming exams, create schoolwork to-do lists, and set your daily or weekly timetables. Best of all, the app stores your data in the cloud and you can even access all your info offline.
Wunderlist is simple and beautiful app that you can access from anywhere — your phone, tablet, computer, and even your fancy smartwatch. The app allows you to make simple checklists, add reminders for deadlines, and even share lists, so you can collaborate with classmates on projects. You can create separate lists for different kinds of tasks and organize lists into folders. For example, you can make a "School" folder with "Homework" and "Project Materials" lists, and a "Personal" folder with lists like, "Halloween Party Planning" and "Chores."
Despite being a Google product (obviously), Google Calendar works across platforms, including on Apple and Windows devices. G Cal enables you to keep track of all your recurring and one-off events and appointments in a single place. Even better, the app allows to easily coordinate plans with other people. When you create an event, you can add a specific meeting location, add notes about the event, and invite guests. The app sends a notification 10 minutes before the event start time as a reminder. Beyond tracking events, you can also use Calendar to set reminders for specific tasks.
Apple's calendar is another great option for students, especially if you are a fan of Apple's simple and intuitive design aesthetic. The app has many of the same features as Google Calendar: You can keep track of events, set reminders, and share your schedule with others. You can easily see everything that's upcoming on your itinerary by setting the app to List mode. In the app's Day mode, adding an event is as simple as a tap of the finger (or a click of the mouse). And of course, it is automatically synced with your other devices.
Time management? You've got it solved! With device and finger, or paper and pen, you can track, plan and check off when done, all the important tasks in your life. Do you have a favorite way to keep on top of your to-do list? Tell us about it!
-->