New School Year Checklist for Parents
The start of a new school year is stressful for students of course, but the transition from summer relaxation to the packed schedule of school is tough on parents too. Whether your child is moving into middle or high school, or just going back to start a new grade, there are some essential steps you can take early on for smooth sailing the rest of the year.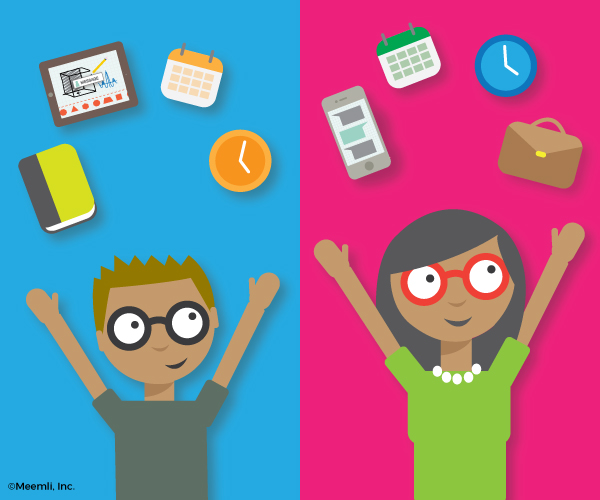 1. Stock Up.
Old school: Schools usually have their supply needs down to a science, but there are always those items that your child seems to run out of throughout the year. Save yourself time and expense by purchasing items in greater quantity now. We love this basic supplies list from Real Simple.
New school: It is important to consider digital accessibility for school assignments be it laptop, desktop or tablet. If those items are shared between family members plan out access in advance to avoid conflicts later!
2. Build a Morning Routine.
Plenty of Sleep! Making sure you get enough sleep (and your child does too) will pay enormous dividends in your ability to handle the hurried mornings and hectic days.
Wake Up Time. Yes, your child is old enough to to be getting themselves out of bed on time. If you suspect the mornings may not run like clockwork just after summer vacation, consider adjusting your wakeup time to make sure you can help with unexpected snafus.
Getting Ready. How can you make things as easy as possible for yourself during the daily prep-for-school process? Perhaps you do this by having lunch items prepped and ready in advance so they're easy for you or your child to grab and pack. Review appropriate apparel choices that fit the school's dress code with your child and either go through the closet in advance or create a system for checking in with each other.
Take Care of Yourself. Whether it's 10 minutes of guided meditation, or just a quiet cup of coffee before the alarms go off, putting moments in your morning to take care of your own needs are crucial to staying stress-free in the early days of the new school year.
3. Get it on the Calendar.
Spread the Word! Get it on EVERYONE's Calendar, not just yours. Make sure key dates are shared with your spouse, grandparents, childcare providers and anyone else who may be helping you with before and after school logistics.
Put Your Dates on Your Child's Calendar. Note your family's business travel or special events on your child's calendar to make sure they're factored in when scheduling.
Pay attention to the Extra-Curriculars. A new school year often means that your child may want to try a new activity, a new sport or join a new club. Be realistic about how much you and your child can handle and work with your child to select programs that work best for both of you.
4. Get to Know Your Child's School
Review the School's Rules. Basic policies concerning dress code and cell phone use can vary widely from school to school. Read up on them to avoid any unpleasant surprises.
Take a Tour. Understanding how the campus is laid out and how your child will travel throughout the school will make the transition seem less overwhelming.
Review Your Child's Subjects. Also understand the expectations of those courses. This can help you identify potential challenges in advance.
Connect With Your Child's Teachers. You don't have to wait until you're called in for a conference. Reach out to teachers at any point early in the year to learn more about the class itself or how your child is faring.
Get to Know Other Parents. Parents of children the same age as yours are great for understanding shared experiences. Parents with children who have been in the school can help you understand how the school works from the parent perspective.
5. Offer Learning Support
Check in Everyday. No matter what the quality of your school, check in with your child everyday and be prepared to help if needed.
Offer Help Yourself. If you know when your child has quizzes or papers due, and you have the capacity for it, you can offer your assistance in preparing or reviewing.
Line Up Resources. Acquaint yourself with the resources offered or recommended by the school or teachers for more structured help outside of the classroom. Also research online options, like Kahn Academy or Meemli to add to your list.
Know How Your Child Learns. Discover how your child learns best, so you can select the option that will be the most useful for your child. Here's a quiz that can help determine tween learning styles you can do on your own, and here's one your teen or tween can do themselves.
We hope you find this list helpful in making the start of the new school year easier to manage. Let us know if you have other favorite tricks to breeze through back to school!
-->